4 Charts Show How


Canadians

Die Differently
Than Everyone Else
Last Updated: March, 2022
In the end, everyone dies.
But how you die varies greatly by age, gender, your genetic code, and a host of other factors. Recently, researchers at Opportunity Health Center mined 23 years of data from the Institute for Health Metrics and Evaluation (IHME) to explore exactly how Canadians die differently than everyone else in the world.
Thanks to good health care, access to nutritional foods, and peaceful lives, Canadians benefit from longer lifespans than most. Those longer life spans, however, often lead to different causes of deaths. Instead of suffering from violence or diseases of poverty, Canadians die much more frequently from diseases of affluence, including heart disease, cancer, and diabetes.
The first chart below highlights the differences between the top causes of Canadian deaths compared to world averages.
While heart disease remains the number one killer, advances in medical care have actually lowered such deaths from heart disease by 27% since 1990, as the next chart shows.
Changing death rates: 1990 onward
When we compare data over the past two-and-a-half decades, we find that death from stroke, suicide, and road injuries has also dropped dramatically. Thank goodness for better auto safety!
Instead, far more Canadians die today from Alzheimer's and falls than they did in 1990 (up 75% and 60%, respectively), due in part to longer life spans. The percentage of deaths from diabetes and kidney disease has also rosin, which can be attributed to shifting diet and lifestyle habits.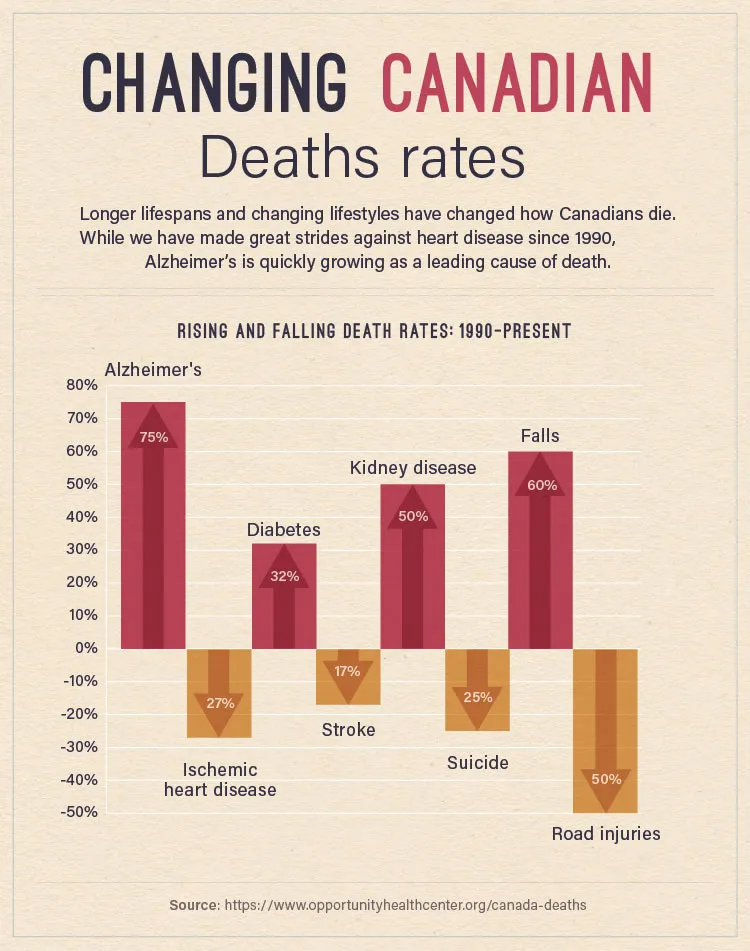 Women die differently than men
Not only do Canadians die differently than those in the rest of the world, but Canadian men and women often die differently from each other. Part of this is due to the fact that Canadian women live 4 years longer than Canadian men, on average. This is not only because of their differing genetic codes, but environmental factors as well.
For example, the data shows that suicide claims 201% more Canadian men than women, and auto accidents kill 96% more men than women.
Gender-specific diseases also play a part. Prostate cancer is responsible for a significant number of male lives, while breast cancer almost exclusively targets women.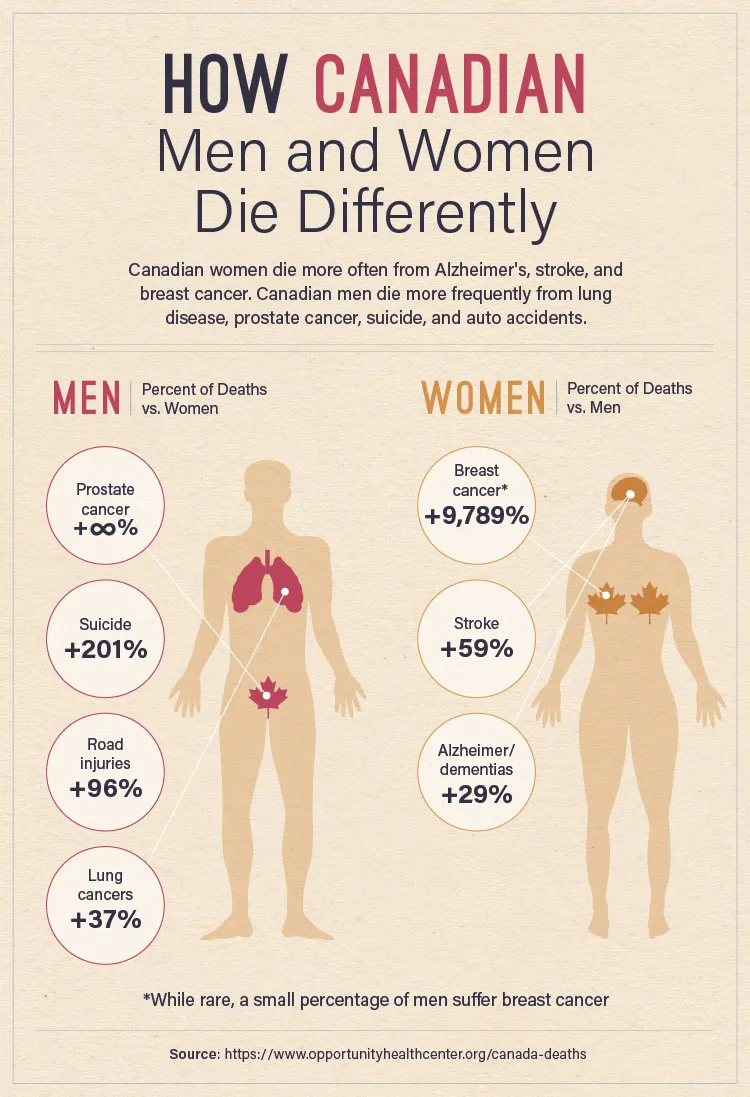 See a deep-dive into the top 100 ways Canadian men and women die differently.
Longer lifespans at every age
Here's the good news: at 82.2 years,Canada ranks 12th in the world (out of 183 countries) in life expectancy, working out to 80.2 years for men, and 84.1 years for women.
This puts Canada well ahead of many other developed countries-including both Great Britain and the United States. In fact, Canadians enjoy a greater life expectancy than the world average across every age group.
The study will be run again next year to look for further changes.
For Canadians looking to improve their health through supplements, Opportunity Health Center offers a Canadian iHerb coupon code for all eligible residents.