5 Latest iHerb Promo Codes with Free Shipping Discounts
Here are the top 5 codes with free shipping starting at $25 (iHerb recently changed this from $20.) Click below to automatically apply the discounts, or enter codes at checkout.
RUS173 – 5% off any order.

Click to Save

NEW20 – 20% off Your 1st Order.

Click to Save

GOLD60 – 10% off orders over $60.

Click to Save

GOLD120 – 30% off iHerb Brand Orders over $120.

Click to Save

SWANSON – 20% off Swanson Supplements. Click to Save
Top Tips to Save on iHerb Products
Long-time iHerb customers are often known to take advantage of these coupons and promotions, but they can be a little challenging for newer customers to find. We've gathered some of the top special discounts for you to learn from. Here are our five best tips and tricks for saving the maximum on your next purchase of vitamins and supplements. iHerb is known for being generous and offers a continuous stream of discounts almost every week for both new and existing customers alike.
1. Save 5% Off Any Order
Not long ago, iHerb revamped their iHerb Rewards program, which gave you 10% credit on every purchase. The credit could later be used on any future purchase.
The new rewards program does away with future credits and instead requires you to spend at least $60 USD.
To take advantage of the loyalty credit, you need to enter a special code: GOLD60
The loyalty program is subject to change, so watch this space for any updates.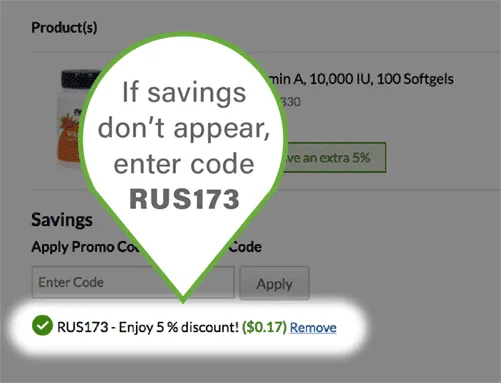 2. Get 20% Off Your First Order
If you've never ordered from iHerb before, this is another great way to save. The best part is that you can use this discount combined with select other offers such as free shipping and volume discounts.
To qualify for this coupon savings, simply click any of the buttons above and the saving will automatically appear in your shopping cart. If the savings don't appear, you can enter the codes manually by typing NEW20 in the referral code box, then hit "Apply".
The savings will appear in your final total.
3. Get Free Shipping
Yes, it's possible to get free shipping for your iHerb order (almost) all over the world.
That said, there are a few guidelines to keep in mind to qualify for free iHerb shipping.
Most orders must be over $25 USD ($40 for select international destinations)
Exclusions based on weight, volume, and other factors apply
Doesn't include tariffs or import fees
iHerb won't always tell you the shipping cost until you check out, so you need to fill your shopping cart before you check out. Sometimes removing or adding quantities or certain products will lower the shipping cost.
For maximum savings, be sure to check the "Shipping Saver" box when searching (see the screenshot.) These items ship cheaper than others, and are often the products most likely to qualify for free shipping.
Countries where iHerb offers free shipping include:
4. Trial Pricing is Amazing
You can purchase trial items from iHerb, often for pennies on the dollar.
iHerb trial items are regular products, priced to move. Sometimes they are sample items, other times simply extremely cheap.
The trial items come with a catch: you are limited to one item only. You can purchase additional quantities if you wish, but the discount only applies to your first item.
Regardless, its a terrific way to try new products.
5. Save 5% Extra With Volume Discounts
The more you order, the more you save.
iHerb gives an exetra 5% discounts when you order 2 or more of most products. This is a great opportunity if you are a reseller or operate your own store. No coupon required.
This is on top of any other offers such as free shipping discounts, which means that when ordering in bulk, your total savings can really add up.
Frequently Asked Questions
How do I get free shipping on iHerb?
iHerb offers free shipping and low-cost shipping to destinations around the world. Free shipping is often available automatically for orders over $25-40 USD. Free shipping does not include tariffs and import fees.
Is iHerb reliable?
iHerb was founded in 1996 and has earned a reputation as on of the most reliable suppliers in the world of vitamins, supplements, and nutritional health products. iHerb maintains the highest standards of quality and freshness to ensure the safety of its products.
Where is iHerb located?
iHerb headquarters are located in California, in the USA. iHerb has additional US shipping facilities located in Kentucky, Illinois, and Pennsylvania. Additionally, iHerb has a shipping facility in Incheon, Korea.
How do I use my iHerb Rewards Credit?
iHerb recently revised its rewards program so that you no longer have to wait to use your credit. Credit is now a flat 10% discount for orders over $40 in the USA with code GOLD60. For international orders, credit is 10% off orders over $60 with code GOLD60.
Written by Stephanie Nelson
* Equal to $40 USD. Select orders only. Exclusions apply. Taxes and duties may be extra.